I became a vegan at age 16 after a year of being a vegetarian. After reading tons of books and watching several documentaries, I decided veganism was the best choice for me, morally and environmentally, for my health and spirituality.
I had a lot of fun learning new recipes. Veganism is why I learned how to cook and why I educated myself on topics such as nutrition. I shed excess weight and felt better, more energetic. It was great.
But now, ten years later, I don't know if I want to be a vegan anymore.
No, it didn't negatively impact my health.
I came to realize that veganism depends on feeling guilty:
feeling guilty for consuming meat, milk, honey, or eggs when just about every creature on earth consumes at least one of those, when every human society throughout history has consumed these things
feeling guilty for not doing enough to save the world
feeling guilty for what other people [slaughter house workers, companies] do
Honestly I now feel like this guilt is especially aimed at women, while at the same time vegan activism seems sexist – just look at this disgusting ad from PETA: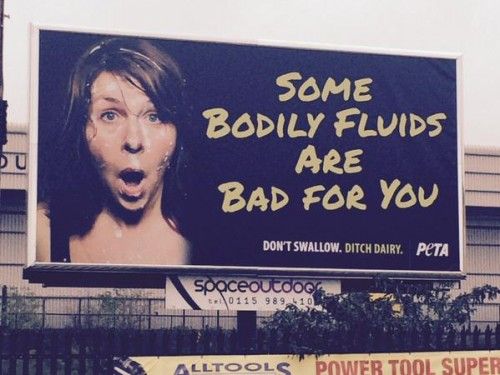 Women already face the brunt of issues such as eating disorders and body image problems. And in some places women are forbidden from eating meat – among a plethora of other foods – after their husband dies. Some places just don't feed their female children very much at all, in favor of their sons. Furthermore, women are more at risk for diet-related conditions like calcium deficiency and anemia than men. In light of this, I've started feeling like veganism places a heavy burden on women.
Veganism also depends on anthropomorphizing animals. Many vegans will say that it doesn't matter that many animals eat other animals. Now I believe that it DOES matter. Although animals obviously feel pain and some emotions, they don't suffer in the same way we do and to suggest otherwise harms the animal rights movement because it damages their credibility. I have commonly heard vegans refer to what happens to dairy cows as "rape," reference the Holocaust in discussions of factory farming, or even refer to keeping pets as slavery. Not only are such comparisons hyperbolic, but they also degrade human victims, downplay human suffering, and numb listeners to the very real violence inflicted on other humans.
But most importantly are my next points:
Naive and idealistic, I had thought I could do my part in lessening in the world's evils by becoming vegan. Now that just seems arrogant. One person cannot make a difference on a wide scale. The powers that be may want us to believe that – that we have so much power as consumers that we can stop factory farming. But the sooner we realize that as individuals, we are powerless, the sooner actual change can happen. If anything is going to change, it will happen because people work together as a group to boycott, to protest, to write to senators. Going vegan is literally the least thing any of us can do.
And all of that ties into the idea of food justice. I rarely see vegans talk about this issue. But if more people had access to fresh foods – not just crap from gas stations or fast food places – they would pick healthier things. Tackling the issue of food deserts  would do a lot more to help animals than the idiotic mental masturbation vegans sometimes engage in.
So I'm not sure I want to remain a vegan.